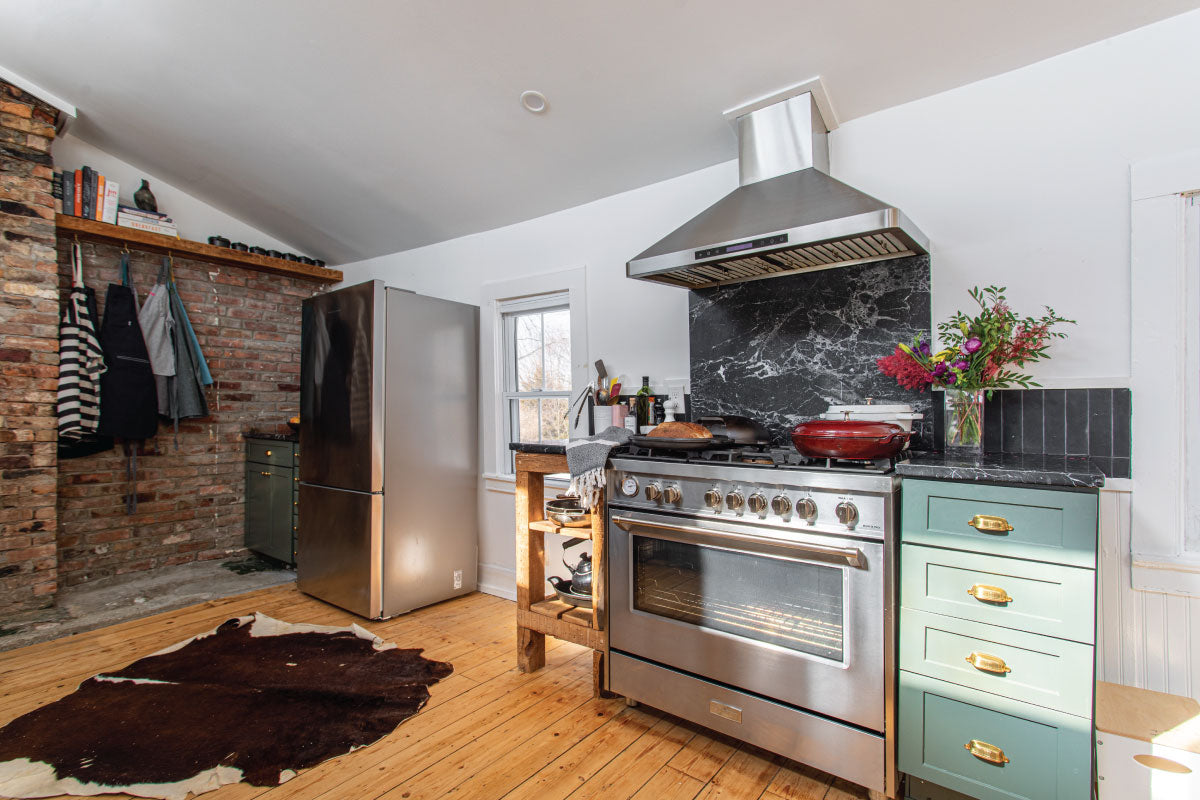 Tools of the trade: Alex McCrery and Jenny Goodman
Tools of the trade: Alex McCrery and Jenny Goodman : Tilit NYC Founders
We're excited to be launching a new column to our site where we intend to take you inside a chef or hospitality entrepreneur's kitchen to showcase the tools we actually use and can't live without. In addition to excellent kitchen uniforms like our aprons of course! To launch we're giving you a peak inside our own kitchen, as featured in Domino magazine. 
Our living spaces have always centered around our kitchen, it's where we spend most of our time when we're not busy creating at Tilit. Our Hudson, NY home is no different. Here are our 5 favorite elements.
1. Verona 36" Designer Gas Range
The first item we sourced when building our kitchen was the range. There are a multitude of options on the market and a wide breadth of prices. For us the design was key, but we had a budget, and just with our clothing we know utility is not to be forgotten. While other ranges offered sleek design and colorful accents, none came close with the reviews on performance of the Verona design. It is the full package and I'm happy to say as a long time chef and consistent user of this range it is performing as good today as the day we installed it. 
We never felt like we needed a pizza oven, but after using this one from Ooni, I'm not real sure who we'd be without it! It's our Sunday tradition now and cranking it up and using it is just as fun as eating the amazing pizza that comes out of it. Jenny's sourdough/yeast combo dough recipe has reached peak levels after some time on this beauty.
There are few things more important to us than a morning cup of coffee. This machine is well worth the splurge and with proper training on pulling espresso shots and milk steaming you can forego the trip out for a $5 cappuccino. 
4. Plateware from Jono Pandolfi
Yes this was a splurge, but 3 things make it well worth the purchase. The plates are beautiful and make every dish look great, they're tough and we've not had a single plate break in over a year of heavy use, plus you're buying from a local family business just like us. 
Everyone needs a sheet tray. Why not make it a beautiful blue or green one!