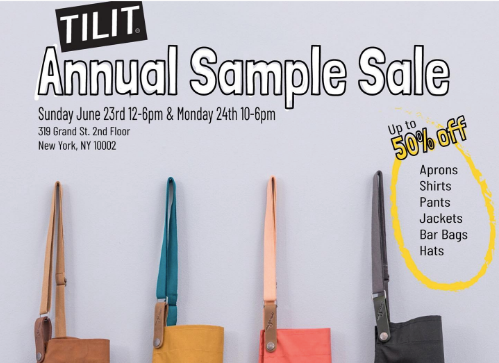 Tilit is having a sample sale! From June 23rd to June 24th at 319 Grand St. #2, New York, NY 10002.
It's that time of the year again where we make room for new and exciting goods by clearing out the shelves. We'll have some amazing deals on first quality aprons, bartender bags, workshirts, chef jackets and more. We only run a sale twice a year so don't miss out! 
This sale will not be online so you must visit our store, send your friend or tell a relative to scoop you some gear! 
The sample sale will be held over two days:
Sunday, June 23rd: 12pm-6pm
Monday, June 24th: 10am-6pm
@ the Tilit Studio
319 Grand St. #2 (2nd Floor)
New York, NY 10002
Pricing List
Sample Bib Aprons ............................................................................................ $40
Sample Bistro Aprons ....................................................................................... $28
Sample Shorty Aprons ...................................................................................... $28
Sample Workshirts ............................................................................................ $45
Sample Street, Tactical Pants .......................................................................... $45
Sample Bartender Bag ..................................................................................... $135
Sample PPX Recycled Chef Coat* .................................................................. $75
Embroidered Items ........................................................................................... $5
Hats .................................................................................................................... $10
*Men's Medium ONLY