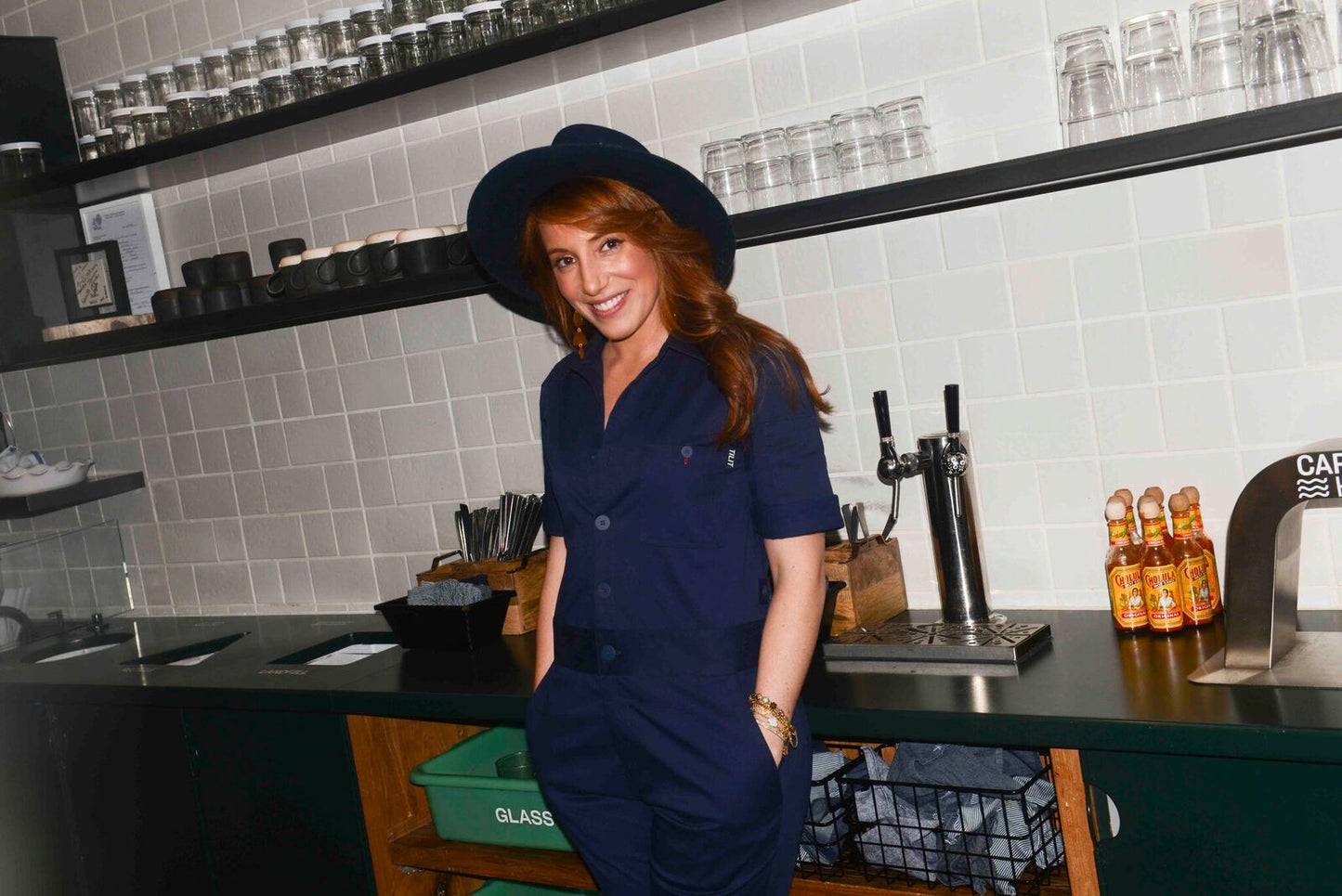 Jumpsuit Interview with Camilla Marcus
Camilla Marcus owns California-inspired wellness café
West-bourne
in SoHo.
---
Can you give me a brief rundown of your "average" work day? (I know you probably don't have a normal work day, but as best as you can!).
You're totally right about me not having a typical work day. That's actually what I love most about what I do as an entrepreneur in a creative, human focused industry. No two days are alike, and I thrive off of a lack of routine.
But if you're going to twist my arm...When I first wake up, I try to savor those pure moments of relaxation and quiet, spending some quality time with my husband and two dogs - Charlie and Teddy - both cockapoos and the loves of my life. Once we are all setting the day on a positive intention together, I take a few minutes on my phone to check emails, respond to anything urgent that I can do right away, and then browse instagram making sure all is right in the west~bourne world, plus get some visual inspiration to kick off the morning.
I like to get to the restaurant to share in "mindful minutes", a pre-shift gathering where team members give props to one another, talk about progress we can make as individuals and as a team, and share possibilities for the day ahead or on a larger scale for west~bourne and then do a meditative exercise.  It gets us all synced up and ready to take on whatever comes our way. I love having my morning coffee at west~bourne because I'm addicted to Counter Culture Coffee, our amazing partners, and jump into check in meetings with team members, strategy meetings with our management team, calls with existing partners and vendors, and meetings for potential partnerships and new business opportunities. If I can, I try to stay at west~bourne through the early lunch rush to make sure I can connect with our regulars and chat with newcomers, plus provide some operational support if needed.
I usually take later lunch meetings, which I think of as pop-up time, where I can get together with folks often outside of my west~bourne world, whether it's with an interesting company I may invest in, a potential client or catch up with my partners in our consulting company, Pound for Pound Consulting, or a planning and strategy session with my partners in TechTable, a hospitality and technology platform.  I like to multitask by using meals as a time to gather and collaborate, brainstorming ideas or moving a project forward.
I'll head back to west~bourne in the early evening to check in on the team, spend time with managers recapping and planning ahead, and catching up with more of our amazing guests and neighbors. Every restaurant has a flow and a life of its own and I love getting to bump into and hang out with different people in our community through the day. I'll also tackle bigger projects at this time of day if need be. After a day of running around, I focus better at the end rather than the beginning.
I often pop into an event or stop by an industry gathering before heading off to a later dinner ~ I've always been a night owl, for better or worse. Whether it's with my husband, my parents and brother who visit frequently from Los Angeles, visitors in town, or local friends, I'm always looking for the next adventure and getting to hang out with people I love.  It's absolutely where I get my energy from. I can't turn my business development brain off ever and love exploring new neighborhoods and restaurants to keep my mind fresh and inspired. I also get energized and unwind by being out and about and connecting with others… so, two birds with one stone. Then it's off to home where I'll catch up on all my emails and finish any administrative work I've been pushing off through the day.  Finally, I always make room to wind down with some television, listening to records, or reading a book… relaxed to then start the crazy fun ride all over again the next morning.
How would you describe your personal style?
I am a tomboy at heart, raised by brothers, but I love forward thinking fashion and off the beaten path street style.  I covet a mix of masculine and feminine and lean towards eclectic, one of a kind pieces layered into high-low staples. I'm a hunter and collector to the core, so there's nothing I crave more than trying to find a limited edition or vintage anything… things no one else is likely to have.  By the same token, I invest in my wardrobe and so those are the items I cherish the most and keep wearing throughout the years, rather than being trend-focused. I still wear overalls I've had since high school for example. I also aim to pick an outfit that will carry me through day to night, no matter what I'm doing, so I try to edit with some level of a practical eye to adapt to where I'm going that day.
How does your work play into that?
I never met a onesie I didn't want to own… and even stop random people on the street to ask where they got their jumpsuit or romper from.  No shame. I love wearing them to work and pairing them with great accessories -- a contrasting hat, statement jewelry, or new kicks -- so that, just like west~bourne, I can make a smooth transition from day to night.  Plus, I just really only have to pick one thing to wear, which makes life simpler. Being in a one piece also gives me the mobility to move around the restaurant, jump in and help a team member out, or cover the line if need be. It hits that high-low note I mentioned above and is functional while being stylish.  It feels polished but casual at the same time, appropriate for just about any engagement. And there's no better outfit to go out in than a jumpsuit in heels, so while I have to be somewhat practical during the day, I often try to think ahead and pack evening shoes in my backpack, just in case… for later.
One word you'd use to describe why you do what you do? You're more than welcome to explain why you chose the word, or just let it ride!
Community.  west~bourne is committed to neighbor~hood hospitality 〰 cooking for and giving back to our community.  And, it's all about being full circle. We hire people who are passionate about taking care of others and nurturing our environment, we then empower and support them in all they do inside and outside of the restaurant, they then pay that forward to creating memorable experiences for our guests, our guests in turn thoughtfully support us, and then we use a percentage of revenue to support hospitality training for youth in our neighborhood with The Robin Hood Foundation and The Door where we hire many of our team members from.