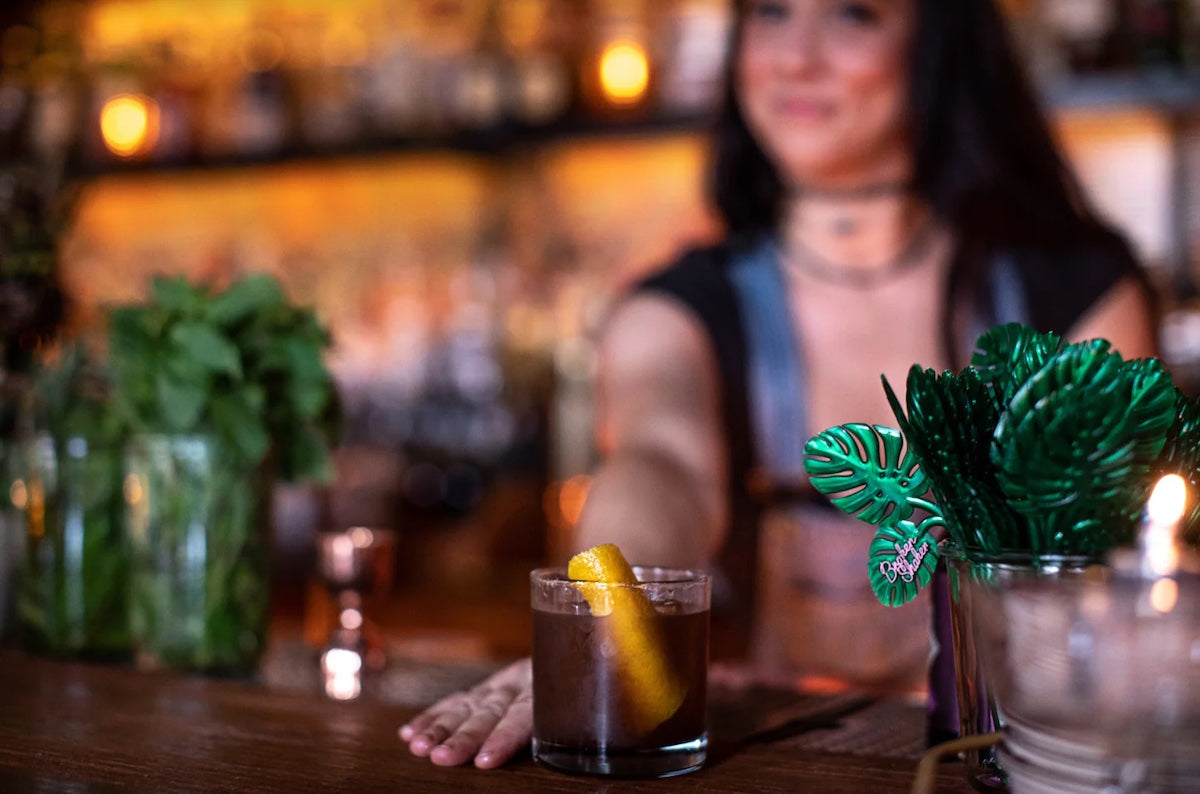 The Cocoa Puff Old Fashioned with The Broken Shaker
BROKEN SHAKER X TILIT NYC
An Old Fashioned with A Twist
Tilit is proud to announce that the October 29th launch of our new Bartender Bag at Las' Lap Restaurant was a success! While testing out our new bartender bag with the team at The Broken Shaker Cocktail Bar, Tilit picked up a new recipe from bartender extraordinaire, Amanda Patnik. Here, she shares her favorite OG Broken Shaker Recipe: The Cocoa Puff Old Fashioned. And yes, as in cocoa puffs the cereal!
RECIPE
Add cereal and bourbon to a 2-quart lidded container; cover and let sit at room temperature for 2 days. Place a strainer over a bowl and strain cereal, pressing down to release all of the liquid. Use a funnel to pour infused bourbon into an empty bottle for storage. (Infused bourbon will keep as long as regular bourbon.)
In a cocktail pitcher, add cocoa cereal-infused bourbon, simple syrup, orange bitters, and chocolate mole bitters. Fill the pitcher with ice cubes. Place a cocktail spoon down the side of the pitcher; then run the spoon around the edge of the pitcher quickly but gently to stir, about 30 seconds. Add one block ice cube to a rocks glass.
3
Place a julep strainer over the pitcher and strain the cocktail into the rocks glass. Garnish: Peel a twist from an orange; squeeze over the cocktail to release the oils. Rub the peel around the rim of the glass, then drop into the cocktail. Serve immediately.
T: Why did you choose to make this specific cocktail?
A: I made this cocktail because it's one of the original Broken Shaker cocktails. 
The depth of flavor comes from the Cocoa Puff Cereal steeped in Bulleit Bourbon and Lot 40 Rye. The demerara syrup, along with the orange and chocolate bitters further balance the flavor, giving richness and viscosity.
T: Any special reason behind it?
A: The cereal instantly reminds you of childhood and it's still light enough to enjoy a few in one evening.
Many Thanks to Amanda Patnik and the Broken Shaker Bar! Try out this recipe for yourself, or head over to the Freehand Hotel to see the other cocktails that are waiting for you. And don't forget to let your favorite bartender know about the famed Tilit Bartender Bag-available online now!