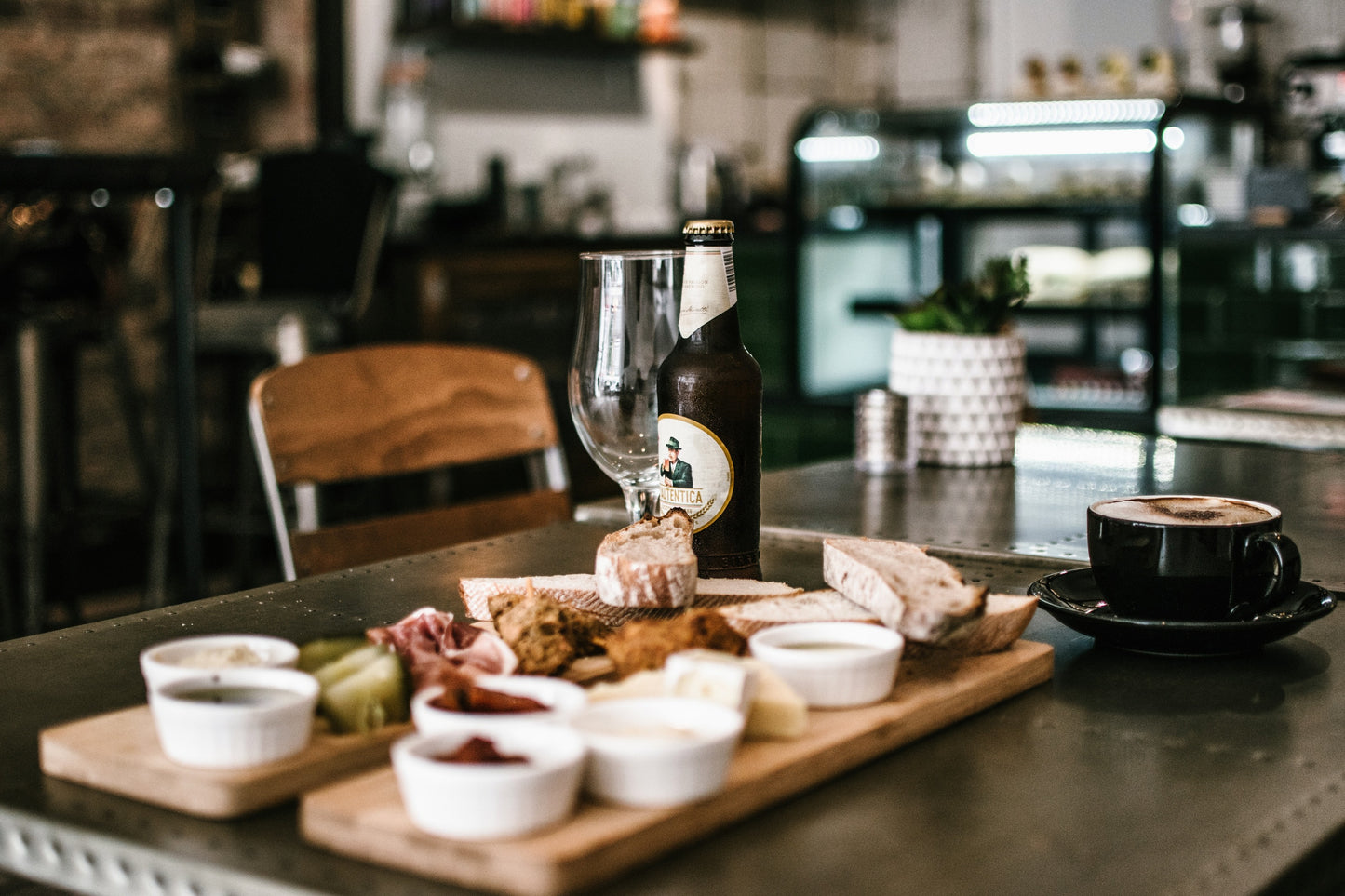 The Build: Money Earnin', or Money Burnin'
The Build takes a deep dive into the process of building up a new restaurant, from signing the lease to opening day. In this episode, not only do you get more glimpses at the fun aesthetic bits, but you'll also hear about the processes and systems behind making sure customers feel taken care of in the space that Eric and Team Ursula are in the middle of creating. Between architects pointing fingers at plumbers, and deciding on plate ware, you'll hear about the nitty-gritty required to build up (and out) your brick and mortar world.
LISTEN TO THE COMPLETE PODCAST HERE
Got a lot to discuss today. We got investors loans, licenses, permits, budgets, sales, payroll, debt, equity. We're talking all things money. 
For all the taboos around it in America, so often not discussed between entrepreneurs, friends, even family, so much of our day to day revolves around it, especially when you're building your dream restaurant and you're on a shoestring budget. 
From bringing in capital to getting the process started for loans and keeping the momentum going to spending a lot of money. How a brick and mortar can make some of that cash back. Today, we're going to get into the nickels and dimes of Eric's process with some reflections about our own money story from goods, of course. And when I say money story, I mean money going down a pit, literally.
So you heard from us last time about defining a good acronym in the restaurant process. We talked about the SLA. So just for a reminder, the SLA is the State Liquor Authority, and they have a lot of power over the New York City restaurant scene and whether or not you can serve booze. And by that token, also a lot of nerves for restaurateurs, chefs and entrepreneurs here. 
Now you get a peek behind the curtain into a big step of the liquor license journey. The dreaded community board meeting. 
Thank you. Next up is Michael Kelley. He's the legal representative for the Awkward Scone LLC doing business as Ursula. The location is located at 387 A Nostrand Avenue. He's coming before us for a letter of support to a company. Their SLA application for an alcoholic beverage control license. Mr. Kelly.
Yes. Hi, I'm Eric. I'm the owner. Michael's my lawyer. He's not here tonight, so I'm representing myself. My name is Eric. I currently live in Crown Heights, but I was a Bed-Stuy resident for many, many years, and we are looking for an open liquor license application for the Awkward Stone LLC. B Excuse me. Also, I've been sick for the last couple of days, so I apologize in advance. DBA Ursula We're a full service restaurant that'll be located at 387 a Nostrand Avenue. It's between Putnam Avenue and Madison. It was formerly occupied by Madame Creperie. I'm the only owner of Ursula. I've been a self-employed chef for over seven years. But in the industry for about 25, I'm the owner and operator of Ursula, which currently stands at 724 Sterling Place in Crown Heights. We're moving the restaurant that I've operated there since September of 2020, at the beginning of the pandemic, to this new location, which is closer to my apartment and convenient for my staff, which is currently nine. They're all coming with me. We're looking to hire about six more people for a total of 15 employees. Those are all coming from the immediate area. Our hours of operation inside will be 8 a.m. to 11 p.m., seven days a week. The location has a backyard which will have seven tables and 14 seats will be putting in some shrubbery and sound absorbing umbrellas to help muffle the sound the previous restaurant used to use the backyard. Our inside occupancy is going to be about 2410 seats and seven seats at an open kitchen food counter and seven seats along side of a bar. We're going to have security cameras inside and outside, but no security guards will have background music. There's one entrance and exit into the restaurant and an emergency exit by the bar that leads into the residential hallway. 
The current location of Ursula has been open since 2020. We've been a pillar of community support. We hosted community LED pop ups, fundraisers and food distribution for the Food Insecure. We've worked closely with the Alley 40 Center to help raise over $100,000 to provide resources for LGBTQ plus homeless youth in New York City. We've worked with emerging chefs to build out their own concepts and cooked meals and groceries for local mutual aid organizations. We've been recognized as a leader in the hospitality industry for enacting positive change and community advocacy. Our entire staff currently lives in Brooklyn. Many of them are in proximity to 387. Nostrand, the remaining six employees will be hired from the immediate area
My question is, what made you choose this particular part of the neighborhood nostr in particular, Bed-Stuy?
So a little background on Ursula itself. It was opened at the beginning of the pandemic. I had a restaurant and a cafe in Bushwick that closed because of the pandemic, and I opened this. Hopefully to create some jobs for my previous employees and myself, but I didn't actually think it was going to last. We didn't really know what the restrictions of COVID were going to carry us through, how long it was going to last. And so it's kind of a testament to see if this particular cuisine and style of food was going to have a place in the market here. And so as a trial, I took on a sublet of the space that we're in currently, and that sublet is now over and the space has to be relinquished. And so I've been looking for a space that's going to be in proximity to our current client base, our current community that we've already been engaged with for the last two and a half years, and my staff. So I've spent the last year looking for a space that is going to fit all of those needs.
And looks like we have a question from the public. Lani Halliday.
I just wanted to say I've worked with Eric. I'm also a chef based in Brooklyn. I'm a baker. I've worked with Eric, known him professionally for over five years as a he's a longtime Bedstuy resident business owner. He has consistently used his resources as a business owner to contribute to the health and prosperity of and the culture of the neighborhood. Beyond creating jobs for local residents and creating delicious accessibly-priced food, Mr. See has a commitment to working, excuse me, work with the local black, black and brown artists and and creatives, collaborating with groups like the Soapbox presents, a Black woman led arts organization that puts on family friendly live performances, educated Little Monsters, an arts focused nonprofit. He's raised money for them. They do arts focused programing for kids from. So his previous restaurant was a catering kitchen, which was part of the reason it shut down during COVID. And when the pandemic hit, he immediately turned it into a food pantry. We packed groceries every single day together. He works daily in his cafe on Sterling in Bedford. He's engaged and present and completely accessible to the community. He answers all emails, all Yelp reviews, all comments personally. He is accessible when it comes to interacting with everyone in the neighborhood. His vision for a daytime, mostly cafe and expanding into evening. It's a restaurant space as opposed to a bar. You know, his vision is to just continue to add value and community focused programing for the neighborhood. He does a lot of work in the fundraising space on a on a grassroots level, and I just think it will be a wonderful addition to the neighborhood.
We recently recapped our experience with our own build timeline for goods, the restaurant that we had started back in 2010, and we touched on some time that we spent that we definitely didn't have. So listen in.
Do you remember what condition the trailer was in when it showed up here?

It was pretty rough. I remember that it had you know, that it was it had a pretty rough interior. The exterior was rusty and, you know, not well kept.
One of the most challenging parts of it was this idea that we had to go through as a mobile food truck. So it's actually a stationary truck on a property. So it was going to function as, you know, sort of a regular restaurant that had this obviously very unique shape to it, being in this old Spartan trailer from the 1950s. And we had gutted that, outfitted it with a brand new kitchen, you know, beautiful stainless steel walls, floors, ceilings, venting. You know, we had ovens, we had stovetops, we had candy burners, things regular, you know, pass like a kitchen would have, um, all these things that, you know, we seemed... Seemed should have made it right through. But then once you go through and you're dealing with the intricacies of, you know, any, um, permitting process, you know, this one specifically is the mobile food truck department in New York City was was more than challenging. I think we ended up going through that permitting process three different times with again, with brand new, spotless, by the book design... um, that just, uh, that found its way to have errors each time. So it was difficult.
Remember that being very nerve wracking, being like waiting to hear from Jeremy. Did the trailer make it to the actual health department? Did it actually pass? Did it break? Because the idea was that it was a stationary trailer, and the only time that we had anticipated having to move it was to go to the health department and then back to park it on to the lot where it was be It's semi it's pretty much it's permanent home, which funny enough today, even though we closed the restaurant in 2010, was it 2010 or 2011, 2010, 2010. It's still the trailer still there permanently on that spot today.
And it's not going anywhere. 

Anywhere. It's in there now.
I think that's part of the problem, too, was that there was so much happening. And I think that this happens probably to a lot of entrepreneurs or restauranteurs or really anyone trying to start something is that you're so deep in doing. That you weren't we weren't able to step outside and say, this is wrong, let's stop. Like, this is not what we wanted to do. This is not what we intended to do. We don't have a plan for how this is going to make money. We don't have a plan for, you know, how this is going to expand or grow or who we're going to be in three years operating this business. It was just it was we were so into the doing that we weren't able to step outside and say, this will work or this won't work or this is what we should be doing or this is how we should be spending our money or our time or any of those things. And it really just sort of snowballed.
What about how we financed goods? You remember Al?  
I do. I think I do. We we basically used our own money. So, you know, you remember your brother and his partner put in a big chunk of money and then we put in what we had, which was everything we had. Um, and for, you know, somebody in business school and, you know, a career chef that was not that much, but we, we cleared out our own bank accounts and basically put in all cash so we didn't have to raise, um, and we didn't have to take loans.
So I, I think we probably had the split the lease on the space for nearly a year before we opened. Now, the lease on the space was very inexpensive.
Our partner basically made an arrangement with the super of the next door building to take a hose from their basement into our yard. And that hose cost us $1,000 a month for water. For water.
Which is crazy because most in New York City, most buildings, but most of the time you have water included in your lease. It's just part of your rent. So there was no water included in the lease because there was no waterline.
And so we made a backhanded arrangement with the neighbor, which did not serve us well, served them well. Thousand bucks a month for. 
Well, he didn't get a very long run on it.
Then maybe it didn't serve him very well. 
But I think that, again, you know, we were deep in, you know, creation of trying to get this business started that we were still at the time excited about. And so each one of those things that came through, you know, sort of seemed like we had, you know, solved a problem. Right. So the idea that we would, you know, have to take the alternative was that we would have to pull the trailer off the lot and have it filled up with water at a service station or something. So when we had the opportunity to run a hose from the neighboring building, $1,000 seemed like a great deal because it was much easier than having to put this trailer back on the truck and carted off somewhere. So and each one of those things was, you know, an isolated incident at the time. When you're busy building and you're busy thinking about what this business could become. But then when you pull them all together on a balance sheet, which we didn't do, you would probably see quickly that this wasn't going to add up to success.
Alex, do you remember the first time we went to go see the space on Nostrand? 
Yeah, I think it was shortly after Eric got on the lease. I think we had a little get together of his friends and supporters to come and have a drink and check it out. 
Yeah. And then just shortly thereafter, I think the 1st of February, we went to really dive in in the daylight and see the space and walk out with Eric and see all the work that he had to do. So let's hop into that conversation.
So we're at The front door and the scene before us is definitely different than last time we were here when there was a little bit here. There's there's some things. There's not an empty space anymore.
So we're walking in it. It's probably what would you say the square footage is? This is probably I think it's a thousand square feet that we're looking at. And as you walk in the door, there is a table to the left that's got a giant white board with lots of notes. And I imagine all of the things that are going to happen in the next six weeks. It's also table is decorated. With different color swatches that I imagine for the tables, for the paint on the walls, you can see a bar that's about to be built out that's sort of framed at the moment. The kitchen is sort of as the space was before. The walls are starting to get painted. There's even some dried chilies hanging on the side of the wall to give us some idea of what's to come. Um, and then Lani and Eric are here, and they're going to walk us through the space as it is now. And then also tell us what's going to happen in the next 6 to 8 weeks. 
In Tilit, of course.
Thank you. On brand.
Tilit on brand. We've got a lot to do. I mean, I think the white board is the perfect place to start for it. A, the white board is probably like three feet by four feet necessary. We've kind of got categories of all of the things that really need to happen. I'm a super visual person. I need to like see all the things I kind of need to like, draw everything. And we just, you know, we this is a place where we kind of keep all the things that need to happen. We stood here last night for 20 minutes, kind of going over the different categories and then putting together like priority to do list so we can kind of go our respective ways. I mostly work out of here. He's obviously at Ursula 1.0 from Wednesday through Saturday, Sunday. So, you know, we work together and we're apart, we're in constant contact by phone, email, etc. We share Google calendar and these are just the priorities of the three top things that need to get do today. A couple other items for me and then, you know, actionable for Eric. But you know yeah, he's his brother's been in here. The place is full of wood dust. Eric has been sanding these tables somewhat here, and they're more of a stress relief. 
Cue snarky look from Eric. 
You know it's ad hoc, it's ad hoc and it's like a stress relief activity it feels we've both got we're learning how each other works. We've collaborated a lot together, but we've never really spent like 8 hours a day, seven days a week working, like, together like that. And so really understanding each other's rhythms is coming together. I texted him last night, you know, 3 to 4:00 is the time of day. You got to throw a snack to the monster. And he's like, You are the loudest person on the face of the fucking planet when you are on the phone, you sound like you're on a call with Marley Madsen. But okay. And yet so, you know, we're just kind of in the space dust everywhere. His brother's a woodworker. He's doing all the beautiful the bar that's going to come. The plans have tiles that are coming up that are going to be on the front. He actually sent me a to do to add to the list about getting some samples for tile today. 
You can see right. On the wall. You've got some... what are those called?
A faux vega. 
Vegas. So in New Mexico. You want to.... 
They're wooden beams that are support structures in homes, all adobe homes. We're gonna recreate a faux, very lightweight version of it because we can't really screw into the ceiling. 
Because it's a sampling of what's coming? And that'll run all the way down. 
They'll go this way.
Who is your brother doing that or is your contractor?
No my, brother.
Your brother? 
Yeah. We're looking at a couple of different materials to be able to do that. We're allowed to make a small hole in the ceiling and glue things to the ceiling, but the hole also has to be filled with putty to not mess with the sound absorption in the ceiling because our landlord works above us and he has a sound mixing studio. So we're allowed to either do that or fix it to the side of the wall and let it float. But it can't contact both the side wall and the ceiling. So yeah, we can't connect them. 
Why? 
Because it picks up the vibrations. He's spent probably like a quarter million dollars on the studio. God knows how much he spent on sound insulation.
He's very rich and he's a professor at Pratt. Teaching like sound design. 
Yeah. So he's, you know, he's a big time sound guy. He spent a lot of time and resources into making this, like, the perfect space for him. And when you attach them, it sends the noise upstairs, like he's even, like, "can you not slam the basement door? I can hear it". Because it's going from the stairwell up to him. And so he's very particular. The decibel maximums are written to the lease. He lets us know which days he's working. So Michael, the woodworker, his brother can or cannot be here at certain days, times. It's a challenge. He's growing on me. (siri) Could you try it? You know what siri... It's very it's a challenge. He's growing on me. He's funny sometimes he seems to be a little drunk and is a little more convivial. But, you know, it's it's just these are the things that you face when you work in a place like New York City. It's like you have a cast of characters. You've got to, you know, sort of wiggle and dance with the realities of personalities. 
And is that are you worried about getting the work done according to your timeline, given the limited hours? 
No...And the these are these tighter restrictions for work are really only for this week, this week and next week. He has a big project that he's trying to finish. And I'm trying to be, since my brother has a little more flexibility and we don't have the permits to do the plumbing or electric work yet. So this is work that doesn't need a permit to happen. But I was like, I can't subscribe to like hours of Operation Labor only taking place at night because it's going to drive up my cost for the contractor because.
Is there for that. Or yeah, that I'm sure I would get charged more if I have to force them into a schedule that's not normal. So it's like during this process, I'm happy to work with him on that. It's my brother has a little bit of freedom and flexibility to do it right now, but I was like, when we get Simon and the rest of the people in here, I was like, They're going to work when they're able to work and I'm not going to play that game, then. 
What's the process? You said the plumbing permits, so you don't have yet?. That's just a general like construction permit? 
Well, we're waiting for the general, the general contractor permit, and then we can do the permits for plumbing and electric, although technically we don't need a plumbing. Technically, we don't need either of those permits, electric or plumbing.
They....We had an asbestos inspection last week.
I need to get in that game... (laughs) That was 500 bucks they were not even here for 10 minutes. 
There are so many rackets in the city. This place was rebuilt, so they there was no asbestos in this building because it was completely renovated. And then they had to have their inspection that previous people had to have their inspection here. And then you have to pay for it again. And it's like there's no way... That it's not back.
They don't even sell asbestos anymore folks! 
And they're like, So you're not doing anything to the floor or the toilet. And we're like, No. And they're like, okay. And I had to pay 5 hundred dollars for that. So they... The architect had to wait for the asbestos certification, and then they had to come in and map out the preexisting conditions. They're sending me those plans maybe this week or early next week. And then when has to draw on top of those? 
Has The designer been in here and doing the designer things or what's happening there now? 
No. He's a little busy, so we've been making some calls ourselves on certain things. He he mapped this out so him and my brother worked on the framing and the size and everything for this. 
We're talking about, just for our listeners, we're talking about standing by the bar and there is varying colors of painters tape on the floor, which Eric is pointing to, saying the map to this out. 
Yes. And I mean, I've been sending him like I send him pictures of the stains and some of the colors. And he was like, Oh, I like that one. We were holding off on him to make some furniture selections, but it was taking too long. I was like, I have to just order stuff now. So we were doing that. He did find some cool chairs that we're hopefully ordering from Morocco for the bar stools.
We've ordered them. We're hoping they don't get stuck in customs.
Now that you guys are here in the space and thinking through some of these problems, what what else is keeping you up at night now?
Always money. Always money. Just making sure there's enough of it.