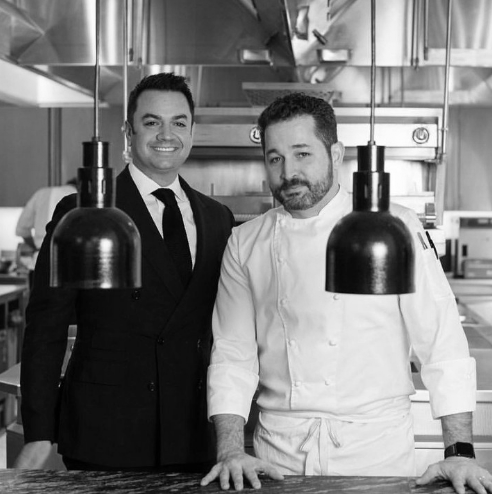 Ep. 8: Ingredients and Menu Planning with James Kent and Jeff Katz
Chef James Kent and business partner Jeff Katz give insight on menu planning.
Opening Soon is a weekly show about the journey of opening a restaurant featuring conversations with some of the world's greatest chefs, restaurateurs and the vendors that help take their business from an idea to opening soon. Opening Soon is hosted by the founders of Tilit NYC, Jenny Goodman and Alex McCrery, who bring their unique perspective as hospitality industry insiders and many questions as the former proprietors of a now shuttered restaurant. Each week we'll extract the strongest takeaways from our guest interview so that if you don't get the chance to listen you can still get the drop.
Special thanks to chef James Kent and business partner Jeff Katz of the recently opened and critically acclaimed restaurant Crown Shy for their insights and advice.
1. FOH VS. BOH is a culture of divisiveness and at Crown Shy they prefer the terms dining room and kitchen for designating team members. Many restaurants focus on being either food/chef-focused or hospitality-focused. That's why at Crown Shy, James and Jeff use the terms dining room and kitchen rather than front-of-house and back-of-house, which are often polarizing terms. A dining room and kitchen are both rooms in a house, creating a more homey feeling. Each side needs to have empathy for the other and complete trust. A healthy team atmosphere is something that guests can sense, and will ultimately result in a better dining experience.
2. Trust. Stemming from #1 above to understand that your partners and coworkers are able and doing what they can to create a great guest experience. 
3. Stay consistent in your vision. While it's important to maintain flexibility based on customer experience, feedback and reviews, don't vanilla your restaurant down and concede elements that are integral to your restaurant to try to appeal to the masses. For example James's playlist is an important part of the fun atmosphere at Crown Shy and don't expect them to switch the music out anytime soon! 
4. Don't stress about "categorizing" your restaurant menu, just understand what type of food is important to you. James and Jeff originally labeled their food "New-American" because they wanted to put a language to the menu, but "New-American" is not the sexiest or most appetizing of labels. Generally, when people decide to go out to dinner, they say the category before the restaurant name, like sushi or Italian. But James and Jeff wanted to be the restaurant that people decided to go to by name, and decided to ditch the labels and just cook food that people wanted to eat. If the people like your restaurant's food, then arbitrary labels don't matter. At the same time, it's important not to label your restaurant's menu by what it's not (like saying Crown Shy isn't a steakhouse, omakase, or farm-to-table), because then the message of the menu gets muddled and diners lose sight of what you are.
5. Create a place people want to come back to, including team members. It's amazing if your restaurant gets great reviews when it opens, but reviews bring people in once, whereas the job of the restaurateur is to bring them back. Challenge yourself each season and try to create different things from the same ingredients to keep the menu fresh.  Always have the restaurant ethos at the top of mind when creating the menu and environment, and guests will keep coming back because they love your restaurant for what it is.
You can find Opening Soon on iTunes, Stitcher, or anywhere else you get your podcasts. Also visit us on
Heritage Radio Network
, we're live every Tuesday at 2pm EST!
Opening Soon Season 1 is powered by